At a Glance
Description
How did the Protestant Church become central to Southern African American communities?
Producer
American Memory, Library of Congress and University of North Carolina, Chapel Hill
The Church in the Southern Black Community, 1780-1925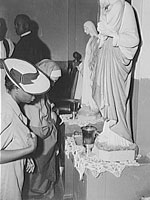 Provides approximately 135 texts—primarily published books, but also pamphlets, journal articles, and 36 slave narratives—that illuminate "how Southern African Americans experienced and transformed Protestant Christianity into the central institution of community life." Also focuses on how blacks coped with disenfranchisement, segregation, and bigotry.
Includes a number of texts written by African American scholars in the early 20th century. Includes a 15-title annotated bibliography and a 2,000-word introductory essay. Valuable for the study of African American history, the history of American religion, history of the South, and 19th-century American cultural history.