At a Glance
Description
See uncommon photograph subjects for the turn-of-the-century, such as street peddlers.
Producer
New York Public Library Digital Gallery
Streetscape and Townscape of Metropolitan New York City, 1860-1942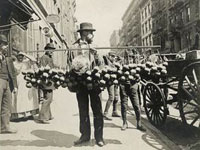 Between 1850 and 1950, the population of New York City grew from just under 700,000 to more than seven million. This collection of 1,300 photographs documents the manifold changes that characterized New York City's urban environment in this 100 year period. The photographs are gathered from several collections: 1896 street views by Staten Island photographer Alice Austen, 1911 panoramas of Fifth Avenue, Washington Irving's home in the 1860s, 31 photo-lithographics of mid-1800s Hudson River mansions, the Sperr collection of 335 photographs taken between 1931 and 1942, and a general collection of photographs divided by city borough. Highlights include Austen's images of New York City laborers (organ grinders, bootblacks, police men, messenger boys) and of her home life among the State Island elite—both rare subjects for this period, and the Sperr collection's documentation of the construction of the Belt Parkway. Part of the New York Public Library's renowned digital library collection, this website is essential for those interested in U.S. urban history, architecture, the history of New York City, and the built environment.