At a Glance
Description
Government organizations document historic sites in drawings, photographs, and text.
Producer
American Memory, Library of Congress and National Parks Service
Built in America: Historic American Buildings Survey and Engineering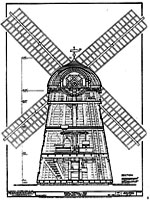 These facsimile images of measured drawings, photographs, and written documentation cover 35,000 significant historic sites dating from the 17th to the 20th century. The Historic American Buildings Survey (HABS) started in 1933 as a work relief program and became a permanent part of the National Park Service the following year to document "our architectural heritage of buildings," in the words of project founder Charles E. Peterson. The Historic American Engineering Record (HAER) was established in 1969 to similarly survey engineering works and industrial sites.
For each structure, the site provides from one to ten drawings, from one to 30 photographs, and from one to 50 pages of HABS text detailing the structure's history, significance, and current physical condition. The collection displays building types and engineering technologies from a farmhouse to a pickle factory, from churches to the Golden Gate Bridge.