At a Glance
Description
Discover the men, ideas, and process behind discovering that mosquitoes transfer yellow fever.
Producer
University of Virginia, The Claude Moore Health Sciences Library
Philip S. Hench Walter Reed Yellow Fever Collection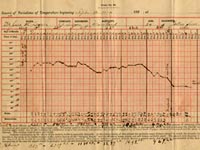 The U.S. Army Yellow Fever Commission demonstrated in 1900 that the mosquito transmitted yellow fever. This archive is an extensive compilation of 5,500 items related to the Commission's findings. Documents span from 1850 to 1966 and include correspondence, reports, photographs, and artifacts. The site is organized into sections pertaining to six key individuals: Walter Reed, Jesse W. Lazear, Henry Rose Carter, Jefferson Randolph Kean, Albert E. Truby, and Philip S. Hench. Each section includes an introduction (800 to 1,000 words) and is searchable by date, series, subject, or keyword.
In addition, there is a 4,800-word essay entitled "United States Army Yellow Fever Commission." The Walter Reed Series (1874-1936) and the Reed Family Additions (1877-1902) comprise Reed's original letters concerning his seminal work with yellow fever in Cuba. The Jesse Lazear Series and Henry Rose Carter Series, which span from the 1860s to 1930s detail the men's involvement with the Yellow Fever Commission in Cuba and their careers in public health. The other series include personal and professional correspondence and research during the period of the Yellow Fever Commission's work in Cuba. A separate section entitled "Books" contains a first edition biography of Walter Reed and a 1941 version of Walter Reed, Doctor in Uniform, a biography for young adults. "Highlights" comprises a sampling of 30 unique documents, many of which comment on the importance of the Cuban American relationship. Those interested in exploring the history of medicine and science, social history, military history, public health policy, tropical medicine, and biomedical ethics will find this site of great interest.