At a Glance
Description
Does your textbook make Reconstruction sound simple? Explore the real pain and complexity of Reconstruction with primary sources focusing on the Carolinas.
Website
Producer
Queen's University Belfast, the University of Memphis, and the University of London
After Slavery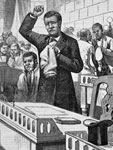 Textbooks often present a quick, uncomplicated overview of Reconstruction—a vast oversimplification of a time of social upheaval, tension, and violence. After Slavery: Race, Labor and Politics in the Post-Emancipation Carolinas, a joint project of Queen's University Belfast, the University of Memphis, and the University of London, provides primary sources that take a closer look at the time period.
Focusing on the themes of labor, race, and citizenship, After Slavery presents sources from North and South Carolina as examples of trends nationwide. A 2,500-word Introduction explores Reconstruction and the rationale for choosing the Carolinas as the project's focus. About the Project explains the structure and rationale behind the website's learning units.
The Learning Units form the heart of the site. Ten units cover topics including emancipation, mobilization, land and labor, black soldiers, conservative reactions, justice, gender, poverty and white supremacy, coercion and resistance, and the Republican Party. Each unit includes a 400-word introduction and six or more primary documents with three to eight discussion questions each. Units can be viewed online or downloaded as PDFs. An introductory essay explains the mission behind creation of the units, and Recommended Reading lists more than 80 books, 50 articles, and 15 primary sources.
As of December 7, 2012, other materials on the site are still content-light. Interactive Maps uses Google Maps to pinpoint only two events—the Hamburg Massacre and the Cainhoy Riot—with five to seven subevents included in each, as well as five-item lists of related sources.
Interactive Timelines includes three timelines with one-sentence descriptions on each item. Timelines look at general Reconstruction history as well as Reconstruction in North and South Carolina. Teacher Resources currently features links to more than 30 digital collections and exhibits, research tools, military records, audiovisual resources, and more. The section notes that lesson plans will be added in the future.
A valuable resource for teachers looking to complicate the textbook narrative on Reconstruction, and for teachers covering North or South Carolina history.