At a Glance
Description
Access works on medicine and health by Clara Barton, Benjamin Coleman, Benjamin Rush, and others.
Producer
National Library of Medicine
Medicine in the Americas, 1619-1914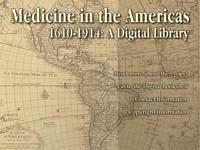 This small "digital library" offers a collection of eight historical medical books related to the development of medicine in the U.S. PDF files of the original documents are accompanied by a transcription and a brief description. Additionally, most of the documents have a link to a "historical note" with a more detailed description of the document. The text of the documents is searchable. The eight medical works are Clara Barton's 1878 pamphlet on the Red Cross; Thomas N. Chase's 1903 Atlanta University conference report on the mortality of African Americans in cities; Benjamin Coleman's observations on smallpox inoculation, written during the 1721 Boston smallpox epidemic; an 1825 description by Robert Waln, Jr., of the Friends Asylum near Philadelphia, the first private hospital in the United States entirely dedicated to the treatment of mental illness; William T. G. Morton's 1847 work on producing anesthesia by the inhalation of sulphuric ether; L. Emmett Holt's 1894 book on the care and feeding of children; Benjamin Rush's 1808 pamphlet on medical care for U.S. Army soldiers; and the text of the 1906 Pure Food and Drug Act that led to the creation of the Food and Drug Administration.