At a Glance
Description
Learn about Madison, WI, from early settlement through its time as the "queen of bootleggers."
Website
Producer
Wisconsin Historical Society
Madison: Celebrating 150 Years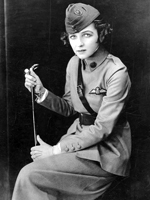 In 2006, Madison, WI, celebrated the 150th anniversary of its incorporation as a city. To mark the occasion, this website features 6,952 images, several articles and documents, maps and information on Madison's buildings, and links to virtual exhibits, entreating users to investigate Madison's past. This diverse collection of materials highlights both the experiences of the American Indian groups that had lived in the Madison area for many thousands of years, as well as those of the Yankee, English, Irish, German and Scandinavian settlers who began to arrive in 1837.
Visitors can view a map of American Indian village and mound sites, built for burial and ceremonial purposes, which are still visible around the city today. Also available are the recollections of George W. Stoner, one of the first settlers to arrive in Madison, through which one can learn about the construction of the city's first buildings and businesses, its first election, and its first suicide. Moving into the 20th century, visitors can also learn of the Federal Government's attempts to enforce Prohibition in Madison, which one official described as "queen of the bootleggers." This website is useful for those interested not only in Wisconsin history, but also in the history of urbanization in the United States more generally.