At a Glance
Description
Listen to a century of Omaha speeches and songs. Hear the influences of Native American music on contemporary tunes.
Producer
American Memory, Library of Congress
Omaha Indian Music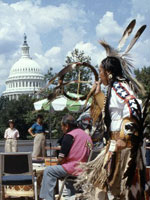 Part of the American Memory project at the Library of Congress, this site features audio recordings of more than 350 songs and speeches from the Omaha Indian tribe in the 1890s and 1980s. It offers 44 wax cylinder recordings collected between 1895 and 1897, 323 speeches and songs from the 1983 Omaha Harvest Celebration Powwow, and 25 songs and speeches from the 1985 Hethu'shka Society concert at the Library of Congress.
More than 80 segments from interviews with members of the Omaha tribe conducted in 1983 and 1999 help to contextualize the music and spoken-word recordings, and more than 350 photographs from the 1983 powwow and 1985 concert illustrate Omaha Indian culture.
Each item is accompanied by brief (100–250 words) descriptions that give the names of speakers or performers, the date of the performance, and the original recording format. The 1983 powwow field notes are available in transcript and image forms (17 pages). Excerpts from Dorothy Sara Lee and Maria La Vigna, eds., Omaha Indian Music: Historical Recordings from the Fletcher/LaFlesche Collection (Washington, DC, Library of Congress, 1985) provide further context to the recordings.
The site also provides a stylized map of the Omaha Indian reservation, two selected bibliographies listing over 150 primary sources and scholarly works; and four related essays from Folklife Center News, 1981 to 1985. This site is searchable by keyword and browsable by medium and event. The Powwow audio is also available in sequence for those wishing to hear the entire performance. The site is easily navigable and ideal for those interested in Great Plains American Indian history and culture.