At a Glance
Description
Archives audio files of more than 700 folk tunes recorded in the South in 1939.
Producer
American Memory, Library of Congress
The John and Ruby Lomax 1939 Southern States Recording Trip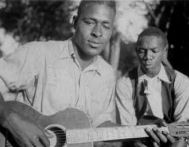 In 1939, John Lomax, Curator of the Library of Congress Archive of American Folk Song, and his wife Ruby Terrill Lomax, embarked on a 6,500-mile journey through the South. During their travels, they recorded more than 700 folk tunes that now are available as audio files on this website. Genres include ballads, blues, children's songs, cowboy songs, fiddle tunes, field hollers, lullabies, play-party songs, spirituals, and work songs.
The site also presents field notes containing personal information on some of the more than 300 performers the Lomaxes recorded, notes on geography and culture, and excerpts from correspondence. More than 50 letters to and from the Lomaxes, 380 photographs, a bibliography of 22 works, and a map are also offered. The site is keyword searchable and can be browsed by subject as well as title, song text, and performer.