At a Glance
Description
How has campaigning changed over the years? Need to know details on major campaign issues?
Website
Presidential Elections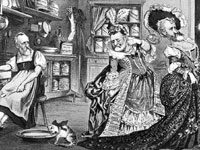 This site documents the American presidential elections from 1860 to 1912. For each election, the site provides a detailed, 3,000-word overview that places the election within political and cultural context, and discusses the major issues relevant to the election. The producers have also included an essay on the practice of campaigning (4,500 words): how it has changed over the centuries, how those changes have resulted in an increased democratization of the political process, and how the press has shaped the process. In addition, the site exhibits about 90 political cartoons (from Harpweek, Vanity Fair, and Puck, among others) from elections, and provides biographies for each of the candidates. Also included for each election are "Events" sections that discuss major events before, during, and after each election period.
Teachers should be aware that some materials contain racial epithets. Notwithstanding the relatively few primary sources, this site is an excellent introduction to the 1860 to 1912 elections.