At a Glance
Description
View more than 400 Native American objects selected and presented by the 11 represented communities.
Producer
Smithsonian National Museum of the American Indian
Listening to Our Ancestors: The Art of Native Life Along the North Pacific Coast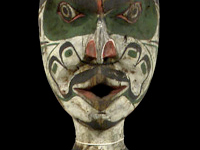 More than 400 ceremonial and everyday objects representing 11 Native communities along the North Pacific Coast-from the Tlingit and Haida in the North to the Coast Salish and Makah in the South-form the core of this virtual exhibit. Each community's objects are presented in separate virtual galleries curated by community members. In this way, each group presents its own culture and history in a way meaningful to that group. The Coast Salish curators, for example, chose only objects used in daily life, such as baskets and mats, canoes and fishing implements, household items, and weaving materials, as the community values keeping ceremonial and religious practices private. The Gitxan curators, on the other hand, focus on spirits and spiritual healers, and have included doll figures, masks, amulets, and headdresses in their collection.
Objects from other communities include art implements, such as paintbrushes, musical instruments, body adornment worn during dances, and wooden carvings. The photographs of all objects are high-quality, and a zoom function enables detailed viewing.