At a Glance
Description
Begin your exploration of African American history with this web portal, leading out to more than 400 websites.
Producer
Professor Quintard Taylor
Black Past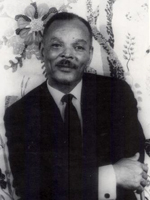 This is a large gateway website that organizes and links to more than 400 other websites that focus on African American history. These range from websites that offer collections of primary historical documents to websites useful to researchers in other ways, such as African American genealogical websites, and the websites of Historically Black Colleges, historical sites and museums, and various African American media outlets.
The website itself also contains a large amount of material—an online 1500-entry encyclopedia of people, places, and events in African American history; the texts of 125 speeches by African Americans; the texts of 100 court decisions, laws, and government documents that bear on the African American past; timelines of African American history; audio tapes from the 1963 Open Housing hearings in Seattle; and summary accounts of important events in African American history.