At a Glance
Description
Jonathan Edwards was the grandfather of Aaron Burr, and entrenched in the Great Awakening movement.
Website
Producer
Jonathan Edwards Center at Yale University
Jonathan Edwards Online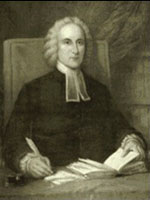 This website will eventually offer the comprehensive writings and publications of American theologian John Edwards, including correspondence, miscellanies, and sermons. Currently, scholarly resources on Edwards's writings are limited to PDF files of the Center's master sermon index, miscellanies index, and indices of Edwards's correspondence. A bibliography lists 183 secondary and published primary resources on Edwards and a chronological bibliography lists 106 key articles and essays about Edwards.
There are also nine essays on Edwards, including a biography, examinations of his legacy and family life, and essays on Edwards as a man of letters, a missionary, a philosopher, a preacher, and a theologian. The website also offers 16 short descriptions of his major works, a chronology of Edwards's life with dates of his major works, and an exhibit on the difficulties of transcribing Edwards's manuscripts. This website is a useful starting point for researching Edwards, with the promise of becoming an important resource for research on his writings.