At a Glance
Description
Discover blues, country, bluegrass, gospel, Cajun, Zydeco, Tejano, and Native American music.
American Roots Music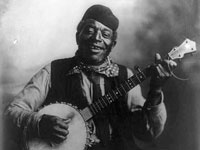 A companion site to the four-part PBS series that began airing in October 2001 "to explore the roots of American music . . . Blues, Country, Bluegrass, Gospel, Cajun, Zydeco, Tejano, and Native American." Includes excerpts (from 1,500 to 6,000 words) from eight oral histories with important artists, including James Cotton, Bela Fleck, Arlo Guthrie, Buddy Guy, Flaco Jimenez, B. B. King, Alan Lomax, and Willie Nelson. Also provides profiles of up to 1,000 words each of 96 artists, 15 songs, and 5 instruments.
A Teacher's Guide includes four lessons geared to middle and high school social studies and history courses on "Finding the Story in the Song," "Desegregating the Airwaves: Blues on the Radio," "Gospel Music Meets a Wide Audience," and "The Strength of Native American Music."
This guide offers photos of some of the artists (but no audio files), a 120-title bibliography, and links to 28 related sites, but in its 2,000-word introduction fails to explain the reason that these particular types of music—and not other musical styles—have been defined as comprising the "roots of American music." Despite this vagueness of definition, the site will be valuable to students of American music and 20th-century cultural history for what it does include.