At a Glance
Description
Search this Civil War roster for data on the service of New Jersey soldiers.
Producer
New Jersey State Library
Record of Officers and Men of New Jersey in the Civil War, 1861-1865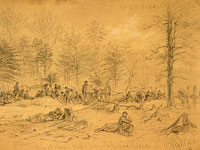 Presents a searchable version of a two-volume 1876 publication by the state of New Jersey's Adjutant General's office, which compiled rosters of the state's military forces during the Civil War. Listings are arranged by regiment. Also includes rosters of "miscellaneous organizations"—troops that fought in New Jersey from other states, the Veteran Reserve Corps, the U.S. Colored Troops, and other U.S. Army and Navy regulars. Listings end with burial records of New Jersey soldiers organized by cemetery. Regiment data is presented in tables with columns for each soldier's rank, date of commission or enrollment, dates mustered in and out, length of enlistment, discharge data, and additional notes. Introductory material in the volumes includes a three-page report by Adjutant General William S. Stryker to the governor with a chronicle tracking the activities of regiments during the war. The volumes end with a hyperlinked personal name index. Valuable for those studying Civil War history, African-American history, New Jersey history, and for those conducting genealogical research.