At a Glance
Description
Peruse maps of Spanish and Portuguese colonization, exploration, and military ventures.
Website
Producer
Library of Congress
The Luso-Hispanic World in Maps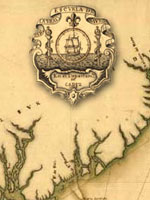 Provides approximately 50 maps and paragraph-long descriptions of more than 1,000 maps in the Library of Congress' collections pertaining to exploration, colonization, and military efforts and concerns by Spain and Portugal from the mid-16th century to 1900. Includes approximately 10 maps of Mexico and southwest U.S. made during the U.S.-Mexican War of 1846-1848; and five pertaining to Spanish claims in North America. An 8,700-word informative guide provides historical background. While the site will be useful to those planning to visit the Library's extensive map collection, online visitors may be frustrated by the lack of search capabilities. Maps included in the site are not indexed, and users can access them only by paging through the entire catalog.