At a Glance
Description
Let the Library of Congress introduce you to African-American history from colonization to the WPA.
Website
Producer
Library of Congress
The African-American Mosaic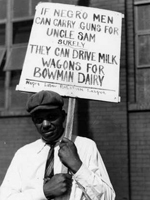 Comprised of 15 essays, ranging from 700 to 1,800 words, and about 120 images, this exhibit is drawn from the black history and culture collections of the Library of Congress. The materials cover four areas: colonization, abolition, migrations, and the Works Progress Administration (WPA)--a New Deal program of the 1930s. Specific subjects include Liberia and the American Colonization Society; prominent abolitionists; Western migration, homesteading, and Chicago as the "promised land" for Southern blacks; and ex-slave narratives gathered by WPA writers. No primary texts are available here, but the essays are well-illustrated with historical photos and images.