At a Glance
Description
Primary source documents including 8,000 newspaper columns and lesson plans.
Producer
Eleanor Roosevelt Papers Project, George Washington University
The Eleanor Roosevelt Papers Project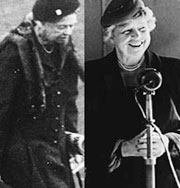 The Eleanor Roosevelt Papers project is dedicated to bringing Eleanor Roosevelt's writings (and radio and television appearances) on democracy and human rights before an audience as diverse as the ones she addressed. Six programs comprise the work: scholarly, annotated, and multi-media editions of The Eleanor Roosevelt Papers: The Human Rights Years 1945-1948, a comprehensive, electronic edition of Eleanor Roosevelt's 8,000 My Day columns, teacher training workshops, historic site interpreter training, work with students in higher education, and work globally to use these documents to further discussion of democracy and human rights.
Teaching Eleanor Roosevelt incorporates lesson plans appropriate for elementary, middle, and high school students and includes background essays specific to the lesson plans as well as an extensive biographical essay, case studies, frequently asked questions about Eleanor Roosevelt and further information on teaching human rights.