At a Glance
Description
These curious photos created by the War Relocation Authority put a positive spin on Japanese American internment.
Producer
Bancroft Library, University of California, Berkeley
WRA Photographs of Japanese-American Evacuation and Resettlement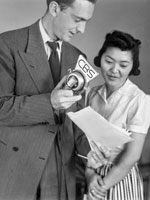 This site contains 6,834 digital images related to Japanese American internment during World War II. The War Relocation Authority exhibited these photographs to present the camps in a positive light.
Users can view the site three ways: "Standard" provides a collection summary; "Entire Finding Aid" lists the series descriptions in more detail; "Online Items" lists all 6,834 images complete with a thumbnail and brief description for each image.
Visitors can also search by keyword, though the search works differently depending on which view is being used. The easiest way to use the search is to choose the "Online Items" view, in which a search for "school" will list images with "school" in the description.
Images in the collection come from a number of relocation centers throughout the country, including ones in Colorado, Arizona, Wyoming, and Arkansas.
"Scope and Content" is a 250-word explanation of the site's contents with a brief paragraph about the historical significance of the photographs.