At a Glance
Description
View depictions of African American life by artist Dox Thrash.
Producer
Philadelphia Museum of Art
Dox Thrash: An African American Master Printmaker Rediscovered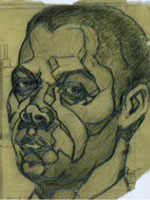 The art of Dox Thrash (1893-1965) is exhibited in more than 60 images—mostly reproductions of his prints, but also including drawings and photographs of the artist at work. Born in Griffin, GA, Thrash spent most of his life in Philadelphia, which he expressively documented in his artworks. The exhibit proceeds along a timeline from birth to death that allows visitors to read a biographical narrative placing his life in appropriate historical context and to view images relevant to each period. Texts and images also can be downloaded in PDF format. Thrash's prints illuminated aspects of African American community life in Philadelphia with scenes of street life, workers, domestic scenes, and leisure activities. Thrash also portrayed scenes drawn from his experience as a soldier in World War I, life on the road, and the lynching of blacks.
In addition to his artistic creations, Thrash invented a new and influential printmaking technique—the carborundum process—in the 1930s as he worked in the WPA Graphic Arts Workshop. The exhibit provides descriptions and images of nine techniques Thrash used, and also includes four audio files of the curator discussing the process of putting the exhibit together. Valuable for students of the history of art and for those interested in expressive depictions of African American life and culture in Philadelphia.