At a Glance
Description
Enjoy an interactive experience depicting the life of Mark Twain.
Website
Producer
PBS, Florentine Films, WETA
Mark Twain: A Film Directed by Ken Burns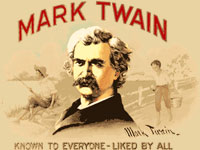 Developed primarily to support a PBS film, this website uses Twain's writings to illustrate his life. An interactive scrapbook, similar to the one patented by Twain, is the centerpiece of the site and provides access to nine chapters of his life. Each chapter is illustrated by period photograph—the scrapbook includes about 100 photographs—and Twain's personal observations. Excerpts of about 15 letters written by Twain are included, as are some 25 news clippings of his lectures, travels, and public appearances. Visitors can also see approximately 20 drawings from first editions of some of Twain's books. The scrapbook offers about 25 audio clips of actors—most notably Hal Holbrook—reading Twain's writings and 15 video clips of the Mississippi River and other sites important to Twain's work. An accompanying chronology lists the events of Twain's life, and Classroom Activities offers five lesson ideas for introducing middle- and high-school students to Twain and his place in American history.
The site asks for sponsorship pledges and markets the video and soundtrack, but overall this site is well designed and offers valuable material for investigating Mark Twain in historical context.