At a Glance
Description
This site examines Illinois history and the life of Abraham Lincoln in the years 1831 through 1860.
Website
Producer
Drew VandeCreek, Northern Illinois University
Abraham Lincoln Historical Digitization Project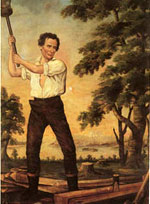 This wealth of historical materials, in a variety of formats, addresses Abraham Lincoln's years in Illinois (1831–1860) and Illinois history during the same period. The website provides more than 2,300 transcriptions of documents, including correspondence, speeches, treaties, and other official papers. In addition, there are 295 images of Lincoln, his family, friends, associates, and contemporaries, as well as Illinois towns, homes, and businesses, and 63 recordings of songs.
Materials are organized into eight thematic sections: African American Experience and American Racial Attitudes; Economic Development and Labor; Frontier Settlement; Law and Society; Native American Relations; Politics; Religion and Culture; and Women's Experience and Gender Roles. Each theme includes a background essay, relevant documents and images, video discussions by prominent historians, and narrated slide shows. "Lincoln's Biography" divides his life into eight segments with a summary and biographical text by scholars, as well as a bibliography.