At a Glance
Description
Need a comprehensive site on Georgia history? Why, here you go!
Website
Producer
Georgia Humanities Council and the University of Georgia Press
The New Georgia Encyclopedia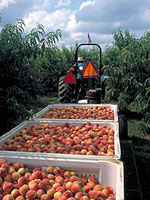 A web-based reference work, this site provides authoritative and accurate information on people, places, institutions, and events for many aspects of Georgia's life, history, and culture. The encyclopedia offers close to 2,000 articles and 8,000 multimedia files on a range of categories, including art, business, education, politics, history, religion, and sports with specific articles on topics such as architecture: building types (houses, public schools, roadside, and vernacular), military bases, folklife projects, and gymnastics at the University of Georgia.
Within the essays, there are links to related essays and external websites. There are also video and audio clips as well as images and some maps. New material is added regularly and the site also offers basic stats on the state, features and destinations, and galleries.