At a Glance
Description
Jazz musician Lionel Hampton and the University of Idaho shared a rich relationship, explored in this tribute site.
Producer
University of Idaho
Lionel Hampton: His Life and Legacy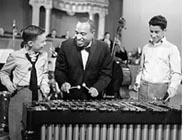 A tribute to jazz great Lionel Hampton, this site explains the long friendship between a university and a musician (after whom the University of Idaho named the Lionel Hampton School of Music). The site includes a 1,000-word biography of Hampton, as well as a timeline of his relationship to the school. Also included are a gallery of 23 photographs and a collection of nine videos of Hampton performing and conducting teaching sessions. A PDF version of Hampton's discography rounds out the collection.