At a Glance
Description
Use this extensive resource as a starting point for all inquiries into homosexual and transgender history.
People with a History: Lesbian, Gay, Bisexual and Trans* History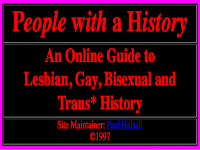 Created by historian Paul Halsall, this site explores through links to hundreds of primary and secondary documents the history of homosexuals and "transgendered people" from classical antiquity to the present day. Arranged into 11 sections--each with their own table of contents--the site treats a strikingly wide range of themes, regions, and time periods. For example, section two, "Medieval Worlds," is comprised of five "chapters" that cover early Christianity, Byzantium, the Latin Christian Middle Ages, Islam, and Ancient and Medieval Jews, respectively, and includes poems, literature, essays, and historical scholarship. Another section, "History and Theory," offers links to interviews with prominent scholars, reviews of recent books, discussions of queer theory, and ruminations on the work of philosopher Michel Foucault.
Partially annotated, the links are accompanied by background essays. The site also presents an incredibly thorough bibliography--perhaps "the most up-to-date and complete bibliography of [lesbian, gay, bisexual, and transgender] history available." Regularly updated, this is an impressive collection of links which promises to expand.