At a Glance
Description
Interested in the history of tourism? This site examines the topic within Miami, FL.
Producer
Professor Robin Bachin, University of Miami
Travel, Tourism, and Urban Growth in Greater Miami: A Digital Archive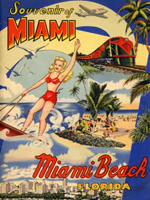 This site uses essays, a detailed timeline, and an image gallery to examine the growth of Miami and the history of its travel and tourism industry. An essay by Project Director Bachin provides an introduction to the website. The site has seven main thematic sections: advertising, architecture, environment, land use, migration, tourism, and transportation. Each section is introduced by a short three-to-five page essay and features a chronology and an annotated bibliography. There is also a searchable image gallery with more than 590 subjects, many with multiple images. The visitor can browse the gallery by subject, location, resource (such as aerial views, photographs, or postcards), or collection.
The site also offers an overall chronology (1823-2000), divided into sections for 1800s to WWI, WWI to 1930s, WWII to the 1950s, and the 1960s to the 1990s. The chronology can also be viewed by 18 themes such as civil rights, the Great Depression, hurricanes, land use, migration, and tourism. The overall annotated bibliography lists more than 90 books, links to 16 related websites, and 14 related archives. This site offers outstanding resources for those teaching or researching the history of Miami and South Florida and should also be of interest to anyone working on 20th-century urban and business history.