At a Glance
Description
Explore the history of Boston, MA, through photographs, maps, and atlas pages.
Producer
Tufts University
Boston Streets: Mapping Directory Data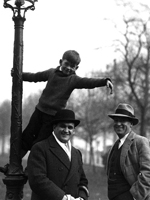 This website uses photographs, historical maps and atlases, and city directories to contextualize "the people, places, and events that have shaped the city from the years before the American Civil War through 20th-century urban renewal." The site has four exhibits, each accompanied by an introduction. Moments is a searchable collection of more than 2,500 historic maps and photographs that includes some of the earliest urban photography in the country. Places presents three historic atlases of the city, from 1874, 1898, and 1928. Each of the 94 plates in the atlases can be viewed individually. People offers nine city directories from 1845 to 1925 and five examples of how people's histories can be traced in the directories and how the directories can be combined with the images and maps from the site to "contextualize in time and place a single history or the history of millions."
Cowpaths allows users to plot information gathered from the images and directories on a map as an aid to tracing the history of the city and its people. Users can define their own data layers, query the data, and have results mapped on historical maps. An illustrated primer on how to use "Cowpaths" is available.
Each exhibit is individually searchable with basic or advanced searches. This site is a useful resource for those interested in the history of Boston and is also of interest to those studying urban history.