At a Glance
Description
Explore 14 significant and compelling documents from the National Archive Holdings.
Website
Producer
National Archives and Records Administration
American Originals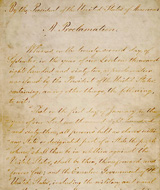 This exhibition presents 14 of the " most significant and compelling documents from the National Archives holdings." The site furnishes, in whole or part, facsimiles and in some cases transcriptions of the following documents: the July 2, 1776, resolution by the Continental Congress proclaiming independence from Great Britain; George Washington's first inaugural address; the Louisiana Purchase agreements; a casualty list of the 54th Massachusetts Infantry Regiment of African-American soldiers who fought in the Civil War; a police blotter that reports the assassination of President Abraham Lincoln; an 1868 treaty with the Sioux Indians; a U.S. Navy memorandum reporting the Titanic disaster of 1912; a court verdict concerning gangster Al Capone; Eleanor Roosevelt's 1939 resignation from the Daughters of the American Revolution in protest of the group's refusal to allow singer Marian Anderson to perform at Constitution Hall because of her race; President Franklin Roosevelt's speech to the Congress requesting a declaration of war against Japan; a draft press release announcing the United States's recognition of Israel in 1948, signed by President Harry S. Truman; speech cards used by Presidents John F. Kennedy in 1963 and Ronald Reagan in 1987 for their historic visits to Berlin; President Richard Nixon's 1969 diary entry relating to his telephone conversation with Apollo 11 astronauts; and Nixon's resignation letter of 1974. The materials are accompanied by brief descriptions of 100-200 words, photographs, audio files, and links to related National Archives documents. This site exhibits national relics well, but does not investigate their historical significance and meanings.