At a Glance
Description
Classroom simulations give students insight into the real-world skills of diplomatic negotiation.
Website
Producer
United States Diplomacy Center
Discover Diplomacy: Diplomatic Simulations in the Classroom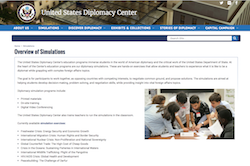 The United States Diplomacy Center has created classroom simulations that engage students in multilateral negotiations on complex global relations topics. By offering these simulations, the Diplomacy Center aims to expose students to the work of the U.S. Department of State while fostering the development of skills necessary to thrive in the 21st century. 
During a simulation, students take on the roles of state and non-state actors with competing interests. Students attempt to reach a resolution to the simulation's central problem through a series of formal and informal negotiations. The simulations require students to find common ground, make compromises, and think creatively to arrive at solutions. 
Eight simulations are available for download, including simulations that relate to migration, public health, nuclear proliferation, peacebuilding, trade, and the protection and fair use of natural resources. Educators can download each simulation as a single packet containing all necessary materials to run the simulation. Students can participate in the simulations without any prior knowledge of the topic, but each simulation page includes videos from experts to deepen the experience. 
In addition to introducing students to timely topics of global affairs, these simulations teach and reinforce skills that are useful beyond diplomatic role-playing. The simulations emphasize higher-order thinking skills such as synthesizing information and evaluating claims while keeping open clear lines of communication among stakeholders. Each simulation includes tips for effective negotiations to guide and reinforce the use of these skills.
Educators will find that the simulations are adaptable to suit individual circumstances. The simulations are written for a single 90 minute class/period, but educators can easily make modifications to work within their own time constraints. Moreover, while diplomatic simulations may be familiar to those involved with Model U.N., these simulations assume no previous experience. Educator resources include student assessments, rubric for grading student participation, and videos that explain the stages of the simulation. 
Both educators and students are likely to find the Diplomacy Center's simulations to be an exciting means of active classroom learning.