At a Glance
Description
Immerse yourself in early U.S. history with this scholarly journal.
Website
Producer
American Antiquarian Society and the University of Oklahoma
Common-Place: The Interactive Journal of Early American Life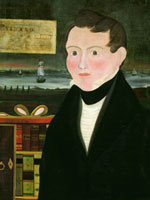 A scholarly journal focused on early American history and run by professional historians. Published in September, January, April, and July, and constituted by interdisciplinary essays, reviews, and "object lessons," the journal hopes "to reach a broad audience of the educated public." Toward this end, the site offers a forum for readers' responses and discussions, space for librarians and archivists, and an "ask the author" feature.
As always with journals, the quality of the site will largely depend upon the quality of the contributors. The editorial board and first two issues, which present 12 items each, suggest a high level of interest from prominent scholars of early America. Whether these scholars can attract a broader readership is a question unanswerable as of yet. A salutary project that holds promise for teaching and research alike.