At a Glance
Description
Provides full-text transcriptions and page images of 1815–1865 Sunday school books addressing religious instruction for youth.
Producer
American Memory, Library of Congress; Michigan State University Libraries; and Central Michigan University
Sunday School Books: Shaping the Values of Youth in 19th-Century America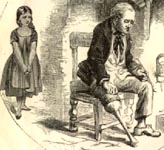 These full-text transcriptions and page images of 163 "Sunday school books" address religious instruction for youth published in the U.S. between 1815 and 1865. Materials include texts used by Methodists, Baptists, Mormons, and other denominations and are searchable by subject, author, title, and keyword.
Books are categorized according to nine types: "Advice Books, Moral Tales"; "Animals, Natural History"; "Child Labor, Orphans, Poverty"; "Death, Dying, Illness"; "Holidays"; "Immigrants"; "Slavery, African Americans, Native Americans"; "Temperance, Tobacco"; and "Travel, Missionaries." There are 67 author biographies and an essay on Sunday school books. This collection offers valuable materials for studying antebellum culture, American religious history, print culture, and education.