At a Glance
Description
A collection of resources pertaining to the Westinghouse Works company, including films and articles.
Producer
American Memory, Library of Congress
Inside an American Factory: Films of the Westinghouse Works, 1904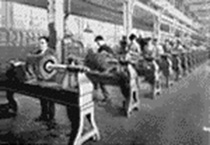 This exhibit includes 21 "actuality" films from the Library's Westinghouse Works Collection. Actuality films were motion pictures that were produced on flip cards, also known as mutoscopes. These films, made by the American Mutoscope and Biograph Company in 1904, were intended to showcase the company's operations and feature the Westinghouse Air Brake Company, the Westinghouse Electric and Manufacturing Company, and the Westinghouse Machine Company. They were shown daily in the Westinghouse Auditorium at the Louisiana Purchase Exposition in St. Louis. Brief (roughly 500-word) descriptive narratives accompany each film, along with three to five photographs of factory exteriors and interiors and male and female workers performing their duties. A timeline traces the history of the Westinghouse companies from the birth of founder George Westinghouse in 1846 to Westinghouse's last patent, awarded four years after his death in 1918. Another link offers a Wilmerding News article, dated September 2, 1904, about life in Wilmerding, Pennsylvania, "the ideal home town," where the Westinghouse Air Brake factory was located. A bibliography of 18 scholarly works on Westinghouse and manufacturing in America is also included. The easily-navigable site is keyword searchable and can be browsed by subject. It is a good resource for information on labor and manufacturing in early 20th-century America, as well as on early film.