At a Glance
Description
What kind of map might you have used as an explorer? An early urbanite?
Producer
Yale University Library
The Yale Map Collection: Online Maps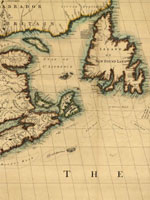 A selection of approximately 200 historical maps covering all parts of the world and ranging in time from the early 16th to the late 19th centuries. Provides more than 50 maps of the Americas, with 16 of American cities. Includes a 1641 map showing the layout of the New Haven community and a 1770 "New Map of the Cherokee Nation." Links to five previous exhibitions with 60 maps and explanatory texts of between 1,600 and 2,800 words each on road maps, three-dimensional maps, and fanciful maps. The site also includes listings for 19 reference sources and links to 48 other sites for maps and cartographic studies. A modest, but useful collection for those studying the history of cartography and exploration, and those needing cartographic aids for other historical subjects.