At a Glance
Description
Can you tell New Orleans jazz from Bebop? Can you hear the variations in style and instrumental parts?
Website
Jazz: A Film by Ken Burns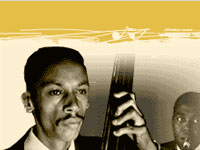 A companion for Jazz, the PBS documentary series, this site explores the origins and evolution of a distinctively American form of music.
The site is divided into three main sections. Places, Spaces, and Changing Faces offers information on some of the cities and clubs that contributed to the growth of jazz, from New York's Savoy Ballroom to New Orleans' Anderson's Annex. Jazz Lounge outlines basic musical features and characteristics of jazz rhythm and melody and describes seven major strains of jazz from New Orleans to Bebop. Jazz in Time features a generally chronological history of the changes in jazz from antebellum America through the Jim Crow period, the Depression, World War II, the sixties, and beyond and also provides a link to a history of women in jazz. Another link offers over 100 biographies of musicians.
Each entry includes a roughly 500-word essay that outlines the historical background, major figures in the shaping of jazz, and specific characteristics of the music in that section. The site contains close to 100 audio clips of music and interviews with historians and musicians who appeared in the documentary. About 20 of the interviews are also transcribed.
A virtual piano in the "Jazz Lounge" provides an interactive opportunity to learn about and practice basic jazz techniques. There is also a section about the making of the documentary that includes information on the show's producer, Ken Burns. This site is ideal for researching American cultural history and the history of American music.