At a Glance
Description
Read a selection of the world's greatest speeches by prominent African American figures.
Producer
Avalon Project, William C. Fray and Lisa A. Spar
African-Americans--Biography, Autobiography, and History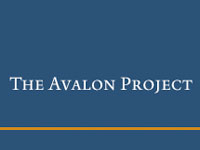 This section, recently added to the Avalon Project, contains complete copies of Martin Luther King Jr.'s August 28, 1963, "I Have A Dream" speech; Frederick Douglass' 1855 My Bondage and Freedom; The Narrative of Sojourner Truth, dictated by Sojourner Truth and edited by Olive Gilbert; W.E.B. Du Bois' 1903 The Souls of Black Folk; and Up From Slavery: An Autobiography by Booker T. Washington. All of the transcripts are legible and available in HTML format.