At a Glance
Description
Follow Capt. Reynold's life, from childhood photos to his stint as a Union soldier.
Producer
American Memory, Library of Congress
A Civil War Soldier in the Wild Cat Regiment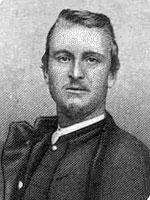 These documents focus on Captain Tilton C. Reynolds's experience in the Civil War. Tilton served in the Pennsylvania 105th Volunteer Regiment, and saw action in the eastern theatre of the war. The site includes some 360 digital items, including letters, drawings, and photographs (many of the letters have not been transcribed, and viewers must read the handwritten letters as they looked 140 years ago).
It contains a detailed timeline, documenting the week-to-week position and activities of Reynolds and his unit, punctuated with links to letters, maps, and supporting information. The letters provide detailed accounts of battles, and offer a good look at the day-to-day life of a Civil War soldier. There is also a timeline of the Reynolds family with links to and from Reynolds.
The site is searchable, and visitors may also browse the collection by subject, title, or name. The letters and primary sources will be valuable for those researching the Civil War.