At a Glance
Description
View commercial photography from the last half of the 19th century.
Producer
Wisconsin State Historical Society
H.H. Bennett: Photographer Extraordinaire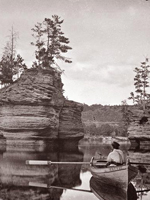 This website makes available 650 photographs and stereographs taken by Henry Hamilton Bennett, a commercial photographer who worked in Wisconsin, Minnesota, and Chicago from 1865 to 1908. Bennett was most renowned for his photos of the Wisconsin landscape, most especially his views of the Wisconsin Dells, and steamboats and lumber rafters on the Wisconsin River. Also collected on this website are his images of Milwaukee, Minneapolis (including its Winter Carnival with ice structures and sculptures), and Chicago during the Columbian Exposition of 1893.