At a Glance
Description
Discover the rich history of DC's cherry trees and what they reveal about U.S./Japan relations.
Producer
Library of Congress
Sakura: Cherry Blossoms as Living Symbols of Friendship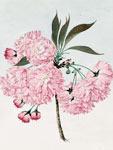 In 1912, Japan presented Washington, DC, with 3,000 cherry trees as a gift. This Library of Congress exhibit uses primary sources to explore the history of the trees, the National Cherry Blossom Festival that grew up around them, and Japan/U.S. relations.
Primary sources are divided up by four themes. "Art and Documentation" includes three sources: a letter from Tokyo mayor Yei Theodora Ozaki to First Lady Helen Taft on the gift of the trees, a memo on artwork acquired by botanist Walter Tennyson Swingle in Japan, and a photograph of Swingle and Seisaku Funatsu, one of the group of Japanese experts who cultivated the trees gifted to the U.S.
In "A Special Gift to Washington from the City of Tokyo," visitors can view Swingle's collection of 11 Japanese watercolors depicting different types of cherry trees.
"Cherry Blossoms in Japanese Cultural History" collects 15 pieces of Japanese artwork depicting traditional hanami (flower viewing), as well as two pieces of Western artwork showing Japanese influence. Also included in this section are 12 stereographs of Japan during cherry blossom time, created between 1904 and 1908 for Western audiences.
"Enduring Symbols of Friendship" includes nine sources exploring the place of the cherry trees in Japan/U.S. relations. A 1938 Japanese magazine cover, notes for a 1934 speech by Japanese ambassador Hiroshi Satou, and a photo of children from the Japanese Embassy at the Tidal Basin show pre-World War II peace. Two political cartoons show how quickly the trees became a symbol of DC, and a photograph shows U.S. cherry blossom viewers during World War II. The section also features three photographs from a 2011 photography contest associated with the National Cherry Blossom Festival.
Visitors can also click on "Exhibition Items" to view all 55 primary sources, sortable alphabetically or by theme.
Some sources lack annotations, and existing annotations are sparse. However, this is a unique collection of sources that could be used as jumping-off points for exploring cultural exchange, international relations over time, and DC history.