At a Glance
Description
Read 10 unpublished Hurston plays based on her anthropological studies of the U.S. South.
Website
Producer
American Memory, Library of Congress
The Zora Neale Hurston Plays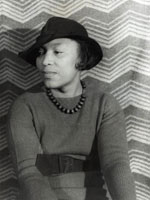 This site offers 10 unpublished plays (four sketches or skits and six full-length plays) written by American folklorist Zora Neale Hurston. Although the plays were written and submitted to the Copyright Office between 1925 and 1944, they remained unknown until 1997. The plays reflect Hurston's life experiences.
As an anthropologist and folklorist, Hurston traveled the American South, collecting and recording the sounds and songs of African Americans. Her research in Haiti is reflected in the voodoo scenes and beliefs woven into several of the plays.
The collection holds approximately 700 digitized pages. These are scanned as she wrote them and have not been transcribed. This site would be useful for research in early-20th-century southern or cultural history.