At a Glance
Description
Access a selection of rare 19th-century books online.
Producer
University of Wisconsin-Madison
Texts from Collections of the University of Wisconsin, Madison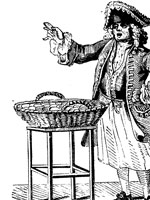 This site was created to put books online that, because of age and condition, can no longer circulate but, because of content and importance, still should be made available to researchers. Currently the site contains seven historical texts, including John Nolen's Madison—A Model City, a text on city development; Fredrika Bremer's The Homes of the New World describing the author's impressions of the United States and Cuba during a mid-19th century visit; and Mrs. Asenath Nicholson's Annals of the Famine in Ireland, an eyewitness account of the potato famine. Each work is accompanied by a 100-150 word biography of the author, notes on the date and place of publication, and a list of other works by the author. The texts can be searched by keyword(s) and proximity searches. At the moment this site is somewhat limited in scope, but there are promises of future additions that would cover a wider variety of topics. Should a visitor have an interest in rare 19th-century texts, the Irish, urbanization, religion, or the lives of women, this site is a useful source.