At a Glance
Description
Examine the nexus of representation, modernity, and urban life.
Website
Producer
Professor Douglas Tallack, University of Nottingham
The 3Cities Project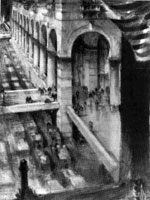 A collection of 10 essays on "the modern American city as a space of representation," using New York, Chicago, and Los Angeles in the years between the 1870s and 1930s as focal points for interdisciplinary explorations. The essays, originally presented at the 1999 conference "New York, Chicago, Los Angeles: Cultures and Representation," run from 3,000 to 12,000 words in length, include approximately 100 photographs and address topics such as the urban novel, Harlem sidewalk photographs, urban perception in the fiction of W. D. Howells, urban electronic history, how the physical redefinition of Chicago in the 1890s "presaged and enabled the virtual city of a century later," and how public art in New York and Los Angeles represented the cities and their inhabitants.
The 3Cities Project, based in the departments of American and Canadian Studies at the Universities of Nottingham and Birmingham, has also produced the electronic book City Sites, which offers an additional 10 multimedia essays on New York and Chicago (see separate "History Matters" entry for a detailed description of this component site).
Highly theoretical and intellectually challenging, these sites will be valuable to those studying urban history, human geography, cultural representations, and societal consequences of the transformation to modernity in American cities.