At a Glance
Description
Imagine traveling from a university to work on a farm.
Producer
Brooklyn College, John Jay College, and ASHP/CML, CUNY
Student Voices from World War II and the McCarthy Era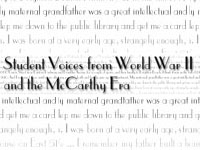 Presents transcriptions of oral history interviews—with selected accompanying audio files—of five students who participated during World War II in Brooklyn College's Farm Labor Project.
The students, most of whom were children of Jewish immigrants from Russia and Poland and were committed to radical politics, journeyed upstate during the summer to work on farms in order to support the war effort. The site organizes excerpts of the words of the five interviewees—four women and one man—into four broad sections covering their background and youth, campus life, life on the farm, and life after the project.
These sections are further divided into 20 subsections covering such topics as family life, social influences, politics, working conditions on the farm, protests against a "capitalist" farmer, interactions with locals, and later life. Individual excerpts range in length from one sentence to 750 words. Audio files are provided for 23 of the excerpts.
The site also includes 12 photos from the project, a timeline, and a syllabus for an undergraduate-level course in Oral History Theory and Practice.
A second group of oral histories addresses the shutdown of Brooklyn College's newspaper during the McCarthy era as well as related biographies, contextual essays, and primary documents. The site will be valuable to those studying student life, radical culture, American Jewish history, and homefront experiences during World War II.