At a Glance
Description
Tom C. Clark served as Supreme Court Justice from 1949 to 1967, a time of legal shift and reform. Learn more about cases from these years from his papers.
Producer
University of Texas Law School
Papers of Justice Tom C. Clark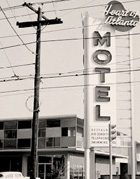 This collection from the papers of Supreme Court Justice Tom C. Clark offers 450 documents that include case files, bench memoranda, and docket sheets from 21 cases during Clark's tenure on the Court (1949-1967). The website offers seven topical presentations on desegregation, school prayer, voting rights, the Fourth Amendment, the Fifth Amendment, Communism, and Mexican American Civil Rights. Each topic is centered on a case or cases involving the topic and each has an introductory description of the case (or cases), selected case files, links to Internet resources, and a list of print resources. Visitors can also browse the entire collection of documents (organized into 10 groups of cases). There is no separate search capability for the site. The site also offers a brief biography of Clark and a timeline of his life. This archive provides useful resources for scholars studying the history of the Supreme Court, American legal history, or for those specifically interested in Justice Clark.