At a Glance
Description
When teaching about Helen Keller, why leave out her friend and educator Anne Sullivan Macy?
Producer
American Foundation for the Blind
Anne Sullivan Macy: Miracle Worker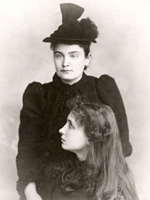 This website is dedicated to the life and legacy of Anne Sullivan Macy, who, in the words of the site's authors "was a pioneer in the field of education." The exhibition tells her story through an introduction and five galleries, each focused on a different period in the inspiring story of Macy's life, including galleries on her childhood and her work teaching Helen Keller that became the basis for the play The Miracle Worker. The galleries feature excerpts from Macy's correspondence and writings, quotes contained in various biographies, and passages about Macy from Helen Keller's Teacher: Anne Sullivan Macy. The full-text of many of Macy's letters are available. All 47 images can be viewed in a larger size and are accompanied by descriptions. The site also offers a brief, one-page biography of Macy; a chronology of her life; and a recommended reading list with 10 books (two for children). An outstanding introduction to the life of this extraordinary teacher.