At a Glance
Description
Read the full text of 52 published works by black women writers from the late 18th to the early 20th century.
Producer
Digital Schomburg: The New York Public Library
African American Women Writers of the 19th Century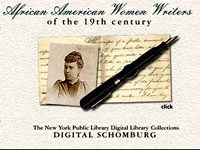 These 52 published works by black women writers are from the late 18th century through the early 20th. The full-text database offers works by late 18th-century poet Phillis Wheatley, late 19th-century essayist and novelist Alice Dunbar-Nelson, and Harriet Jacobs, a woman born into slavery who published her memoirs, Incidents in the Life of a Slave Girl, in the late 19th century.
Users can browse by title, author, or type of work (fiction, poetry, biography and autobiography, and essays). Each browse category also contains a keyword search for subjects such as religion, family, and slavery. Brief biographies of the 37 featured writers are available. This site is easy to use and is ideal for learning about African American history, women's history, and 19th-century American literature.