At a Glance
Description
A collection of portraits and photographs by acclaimed photographer Matthew Brady.
Website
Producer
The National Portrait Gallery
Mathew Brady's Portraits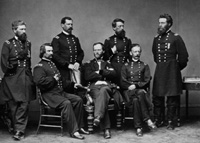 A selection of 84 portraits and 27 cartes de visite of prominent Americans photographed by Mathew Brady are exhibited here in a gallery and album. Visitors may also use an index of sitters to find photographs. A biographical timeline provides a sketch of Bradyí s life, a 200-word essay discusses his place in the art world of his time, and a 300-word essay describes his work during the Civil War. Portrait subjects include Daniel Webster, Clara Barton, Walt Whitman, and the actor Edwin Forrest in five different costumes. Cartes de visites present Jefferson Davis, Mary Todd Lincoln, and P.T. Barnum among others. In a glossary of ten photographic terms, visitors can read 50-100-word explanations of processes such as ambrotype and salt print. An 800-word essay with animated illustrations demonstrates the photographic process of Brady's time. The inclusion of these technical details makes this site particularly useful for research in the history of photography. May also be useful in discussing the history of celebrity.