At a Glance
Description
From Herbert Hoover to George W. Bush—discover the public messages, statements, and speeches of the presidents.
Website
Producer
American Presidency Project, University of California, Santa Barbara
Public Papers of the Presidency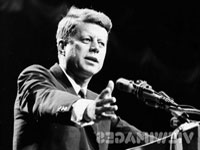 Bringing together a wide range of material on the public communications of American presidents, as well as election data and statistical information on presidency, this website presents the public messages, statements, speeches, and news conference remarks of presidents from Herbert Hoover to George W. Bush. Materials can be browsed or searched by month and year. Visitors can also view transcripts of all inaugural addresses and State of the Union messages, convention speeches of presidential candidates from 1960 to 2004, and all the presidential debates.
The site offers major party platforms from 1840 to 2004 and transcripts of various events from the 2001 presidential transition. Transcripts from the "Presidential Candidates Debates" from the 1960 through the 2004 election are presented. A media archive contains various audio and video clips from the late 19th century to the present. A map shows electoral votes and popular vote totals and percentages by state from 1828 to 2004.