At a Glance
Description
A collection of over 150 portraits of past US Presidents and their First Ladies.
Producer
American Memory, Library of Congress
By Popular Demand: Portraits of the Presidents and First Ladies, 1789-Present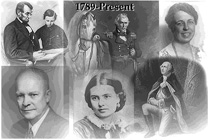 The Library of Congress's Prints and Photographs Division selected this set of 156 portraits of presidents and first ladies from those items in the division's file of popular demand images for which no copyright restrictions are known.
Popular subjects, such as images of inaugurations and the White House, are included, as are such perennial favorites as Abraham Lincoln with Sojourner Truth, Calvin Coolidge at a baseball game, Warren G. Harding with his lively dog Laddie, and Dwight D. Eisenhower with American paratroopers in England.
The first ladies' portraits depict 36 wives of 35 presidents.
The collection is primarily illustrative.