At a Glance
Description
Seek inspiration from classroom visual aids of the past.
Producer
Bienes Center for the Literary Arts
Education by Design: Using Visual Aids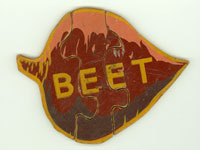 This site offers an online exhibit and an image database of more than 70 historic educational visual aids created for use by schools, libraries, and museums beginning in 1935 by the WPA's (Works Progress Administration) Museum Extension Project. The collection features items such as puppets, toys, architectural models, dioramas, jigsaw puzzles, handbooks and pamphlets, lantern slides, miniature furniture models, prints, and posters. Each item contains information about its size and place of production.
The collection is searchable by item and by state of manufacture and contains materials from Connecticut, Illinois, Kansas, New Jersey, Pennsylvania, and Wisconsin. Suitable for those interested in material culture or government-sponsored education projects.