At a Glance
Description
Track the exploration and use of Acadia, the Grand Canyon, Yellowstone, and the Great Rocky Mountains.
Producer
American Memory, Library of Congress
Mapping the National Parks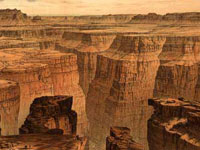 Funded by the Rockefeller Corporation and part of the Library of Congress American Memory Project, this site features approximately 200 maps that document the history, cultural aspects, and geological features of the areas that became the Acadia, Grand Canyon, Great Smoky Mountains, and Yellowstone National Parks. The maps date from the 17th century to the present and include early European, exploration, geological, environmental, United States Geological Survey, and National Park Service maps.
The site is divided into four sections, one for each of the featured national parks. Each section includes a 1200-word essay describing the history of the area and the process by which it became a national park, illustrated with five to seven maps.
The site also includes a bibliography of over 200 scholarly works on related topics. Other links include a 750-word general history of the mapping of national parks and a "Learn More About It" section that offers links to 14 Library of Congress Special Presentations and related collections and exhibits. The collection is keyword searchable and can be browsed by geographic location, subject, creator, and title. This easily navigable site is ideal for students and teachers interested in cartography, the National Parks system, and conservation in America.